Knockety, Knockety Knock! Who's behind the door?
A huge eye, a wet, sniffly nose… Who's behind the door? A heartwarming story of pies, doors, and new neighbour to meet!
Board Book
32 Pages Illustrations
Recommended for ages 1+
ISBN: 978-967-26605-6-9
Get ready for a giggling good time with 'Knockety, Knockety Knock!' It's a super-duper story that'll make your little one smile, say hello, and go on awesome adventures!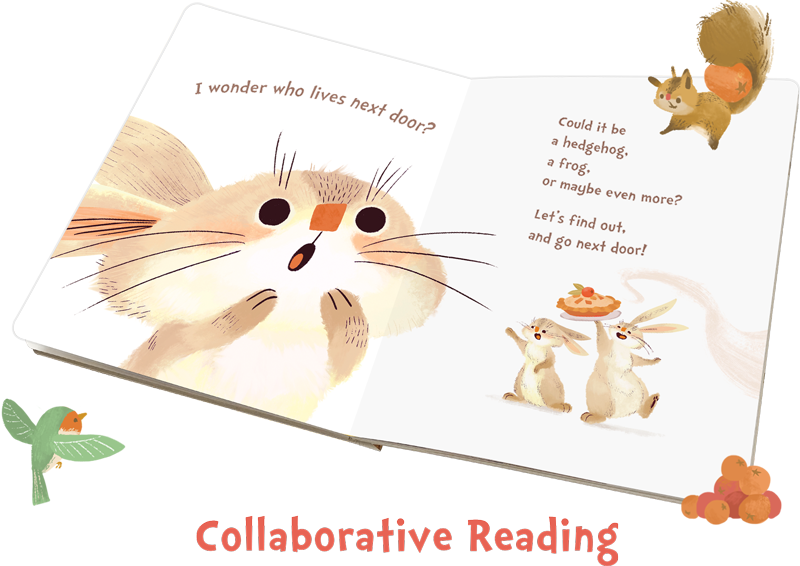 The book features a simple ask-and-answer format, where children can take on the role of the curious bunny, and parents can play the part of the responding neighbours behind each door, using different voices.
Together, you can bring the story to life, making reading a shared adventure!
Discover doors of different shapes like circles, ovals, rectangles, and squares in a rainbow of hues, sparking imagination and early learning excitement.
The book highlights acts of kindness, friendship, and positive social interactions, teaching children important values and skills for building meaningful relationships.
Safe, rounded book corners
Not easily torn or damaged
Trail and Error:
It was a long process of refining and perfecting text and visuals to bring out the best reading experience.
It was fun experimenting with different book mechanics and exploring different story possibilities!
Building a Hop-tastic World for the Story:
Our designs are whimsical interpretations of real locations, ensuring the book is both visually captivating and relatable.
with DIY Forest Bunny Tea Party Craft Kit!
A Tea Party Craft Kit that lets you create your own invitation cards and prepare delightful treats for a whimsical forest tea party!
Engage in a forest tea party inspired by the yummy pie from 'Knockety, knockety knock!' storybook!
Sculpt adorable desserts using safe, non-toxic, air-dry clay.
Host a party like a pro and create unforgettable moments together!
Each book is lovingly designed and handcrafted by our talented artists, writers, illustrators, and designers. We hope you and your child/children will enjoy our storybooks as much as we are creating for you!
The book is 17.5 cm x 22 cm.
Yes! You'll have the option to add gift wrap on the cart page.
We recommend children age 1+, but anyone at any age is welcome to enjoy the books.