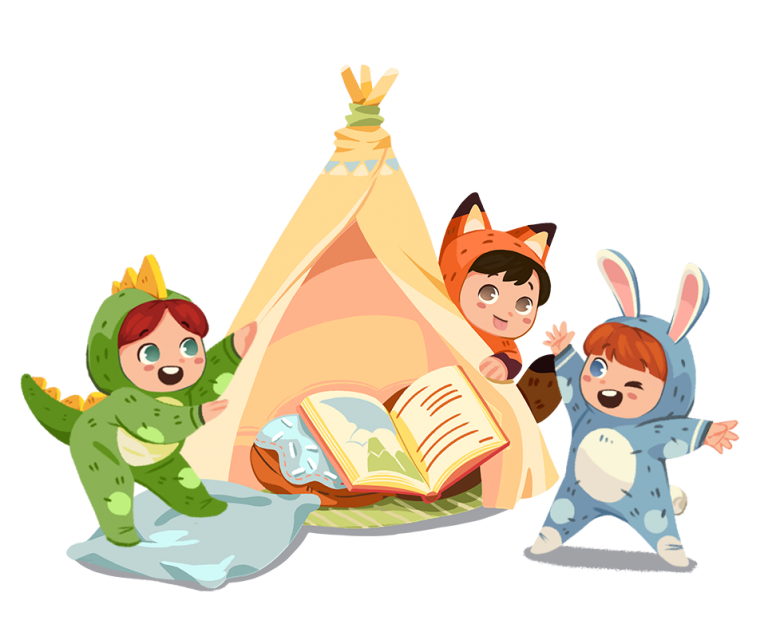 In our storybook Sleepover Adventure, the Parent Guide at the back of your child's book has a few ideas for how to share the story with your child and friends.
One idea is to host a sleepover party.
Here are some more tips for how to host a sleepover (or just a sleepover themed party!).
1. The party doesn't have to be overnight.
Children of school age would enjoy staying overnight with their friends, but those under six may feel uncomfortable being away from their parents for the night. You can still have a sleepover themed party at any time of day! Set up blanket tents and sleeping bags and ask guests to wear pajamas!
2. Use postcards for invitations.
Ask your child to decorate the postcards that came with the book and send them to their friends as invitations.
3. Decorations are simple.
Put blankets over chairs to make tents. If your child has a bunk bed, you can hang a blanket down from the top bunk so the bottom bunk is a cosy tent/cave hideaway.  Put pillows on the floor to make a storytime circle.
Read Sleepover Adventure and encourage the children to point to themselves in the story. Get everyone involved in the interactive activities!
5. Make sleepover snacks.
This video has some great ideas for fun and easy sleepover snacks.
If you have a sleepover party, we'd love to hear about it! Share your photos and stories and tag us on Facebook or Instagram. Have a wonderful sleepover adventure!
If you don't have Sleepover Adventure storybook, customise one for your child now !